If you're experiencing Hotspot Shield VPN connection issues on your Windows device, follow the basic troubleshooting steps below.
First, here are a few common reasons Hotspot Shield VPN might have trouble connecting:
Another VPN/Proxy service is running when you try to connect Hotspot Shield

A strictly configured firewall is preventing the VPN connection

If you are connecting from one of the following countries which occasionally have government blocks: China, UAE, Saudi Arabia, Qatar, Oman, Pakistan, Iran.

If you are not signed in to an Admin account on your Windows computer.
Basic troubleshooting
Hotspot Shield VPN is off, but I still can't connect
If you can't browse the internet even when the VPN is off, restart your computer. When your computer reboots, check that your internet is connected and try browsing again. If that doesn't work, you may need to check your network settings or contact your Internet Service Provider (ISP).
My VPN is connected, but I can't browse the internet
If Hotspot Shield VPN is connected, but you can't browse the internet, read this article.
Hotspot Shield VPN decreases my internet speed
If Hotspot Shield is slowing your internet speed, read this article.
I've tried connecting to different servers but I still have problems
If you're still having problems even after trying different VPN locations, check if you have an IP address in Hotspot Shield.
Your Hotspot Shield IP address will be located besides IP under Server Information. See the image below: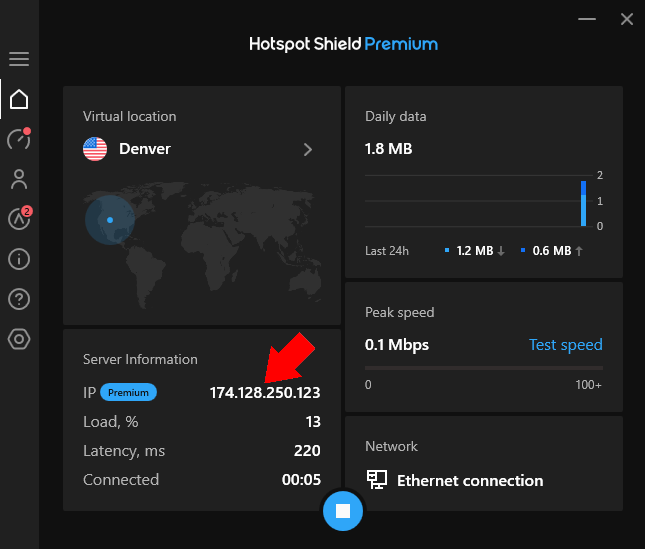 Next, fill out this form with the following items to help the Hotspot Shield Customers Service Team troubleshoot it for you:
The Hotspot Shield IP address located above "Virtual Address" in the app

A description of the problem, including any troubleshooting you've completed