Step-by-step guide
Go to https://www.hotspotshield.com/ and click on Account. Sign in if you're asked.


Go to https://hotspotshield.aura.com/app/hotspotshield/router
Go to the Select location dropdown and pick the virtual location that the router will use. Now click on "Download file." The configuration file (config.ovpn) will be downloaded to your computer (Note where the file will be located, as you will need this later).


In the separate browser window, sign in to the Control Panel of your router




For most routers, you'll want to enter 192.168.1.1 in the address bar or refer to your router documentation for your router's address.


Note: The user name and password for your router are different from the credentials you obtained from the Hotspot Shield account page.


When successfully logged in, you'll see a screen similar to the one shown below.

After you are logged in to the Control Panel navigate to the

VPN

section on the left side of the window.

Click on the

VPN Client

tab in the opened window.

Click on Add profile button at the bottom of the window.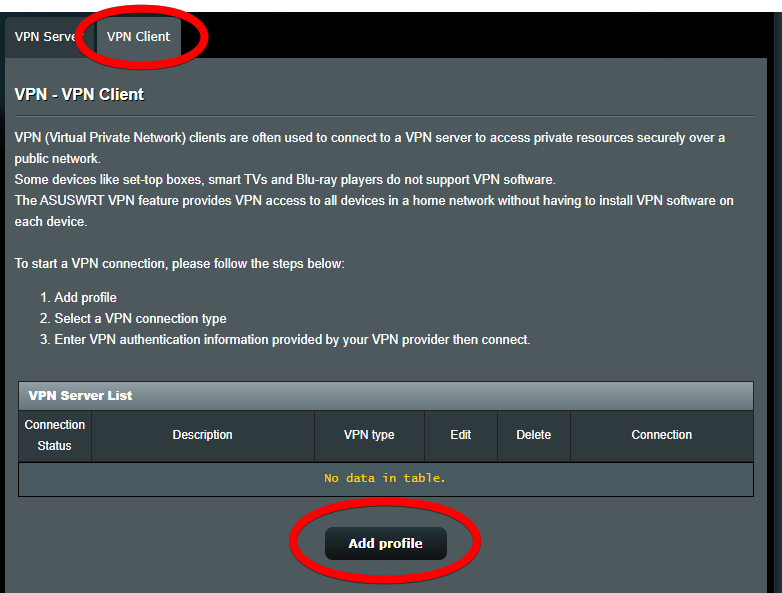 In the new window, select OpenVPN tab and fill in the fields:

In the Description field enter the name of the

virtual location that you selected in step 2.

Go back to the Router Account page (https://hotspotshield.aura.com/app/hotspotshield/router

) and copy the username and password.




Take the file you downloaded in step 2 and upload it in the Import .ovpn file section. Paste the username and password above, in Username and Password.




a. Click Browse to find that file in your computer and click Open. Once that window is closed, click Upload

b.

Click OK when the upload is complete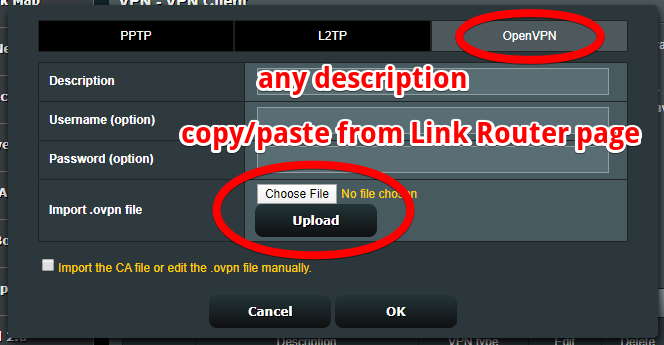 In the VPN Server List click on the Activate button and wait for 10-15 seconds. When the router has established a successful connection, a blue checkmark will appear.
Note: To verify if your VPN connection is established, go to https://whatismyipaddress.com or http://www.findipinfo.com/ and check if your IP address is different from your default IP that's provided by your ISP.
Disconnecting from Virtual Location
When you want to disconnect from the VPN service, you can log in to the Control Panel of your router and click the Deactivate button in the VPN Server list.
Troubleshooting
When you enable the VPN but for some reason VPN cannot connect to the server, there will be no Internet in your network. Some of the reasons the VPN might not be able to establish a successful connection are:
Your ISP does not allow VPN to be enabled (leased equipment, firewall, etc.)

Your Premium subscription has ended

Our server is temporarily unavailable for a particular virtual location
Restore your previous settings
If you need to turn off the VPN, go back to the Control Panel on the router and select the Services tab and then the VPN tab. Disable the VPN client.