Cancel Auto-Renewal Through PayPal or Credit Card

You can cancel the auto-renewal of your Premium subscription through your Dashboard, which is found on your account page. Please be aware that canceling auto-renewal will not automatically provide a refund.
Once you have canceled your Premium Auto-Renewal, your account will stay active until the current subscription expires. After that, you won't get charged and your account will revert to FREE status.
The Details button will only appear if the purchase was with a credit card or PayPal. If you don't see the Details button in your account, please submit a request asking for help with your cancelation.
2. In the Account section next to Premium Subscription click on Details

3.Click Cancel next to the subscription you wish to cancel

4. Please tell us why you chose to cancel. Note: If you choose Other reason, please describe the reason why you are canceling your subscription in the displayed box.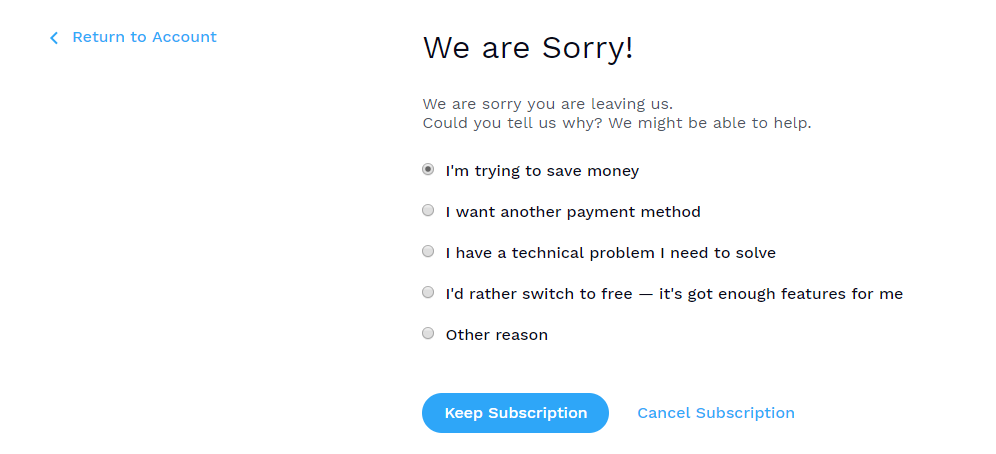 If you have difficulties canceling your subscription, please submit a request. We will help you turn off the automatic renewal of your subscription. Please include the following in your message:
Your username (email you sign in with)

Order Number

Reason for canceling

(If you are canceling because you were not satisfied with our application, please be aware that we offer free, technical support services for Premium customers through email and live chat.)
---
For More Information, Please See