If your Hotspot Shield VPN connection is established, but there's no internet connection (i.e. Hotspot Shield is connected but you can't browse any website, including sites that you usually have access to when Hotspot Shield VPN is not connected), follow the steps below:
Step 1: Check your internet connection
Make sure Hotspot Shield VPN is off

Open your desired web browser and try browsing the internet
If you can't browse the internet even when the VPN is off, restart your computer. When your computer reboots, check that your internet is connected and try browsing again. If that doesn't work, you may need to check your network settings or contact your Internet Service Provider (ISP).
Need help? Submit a request to the Hotspot Shield Support Team for direct assistance.
Step 2: Connect to a different VPN server
Turn Hotspot Shield VPN on

Go to "Server location:" on the right-hand side of the app and select a different U.S. city or country
Ensure that the VPN is connected to the new server location and try browsing the internet.
If the new server location works and you're able to browse the internet, try the original server location once more. If you're still having problems with this location, submit a request by filling out this form. Describing the issue in as much detail as you can and include your IP address. We'll get back to you soon.
Step 3: Use the ping command to ping Google
Now let's test your network while Hotspot Shield is running. Follow the steps below to ping Google:
Make sure Hotspot Shield VPN is on

Press "

 + R" on your keyboard

Type "cmd" in the text area

Click "OK"

In the command window type: "ping www.google.com" and press "Enter."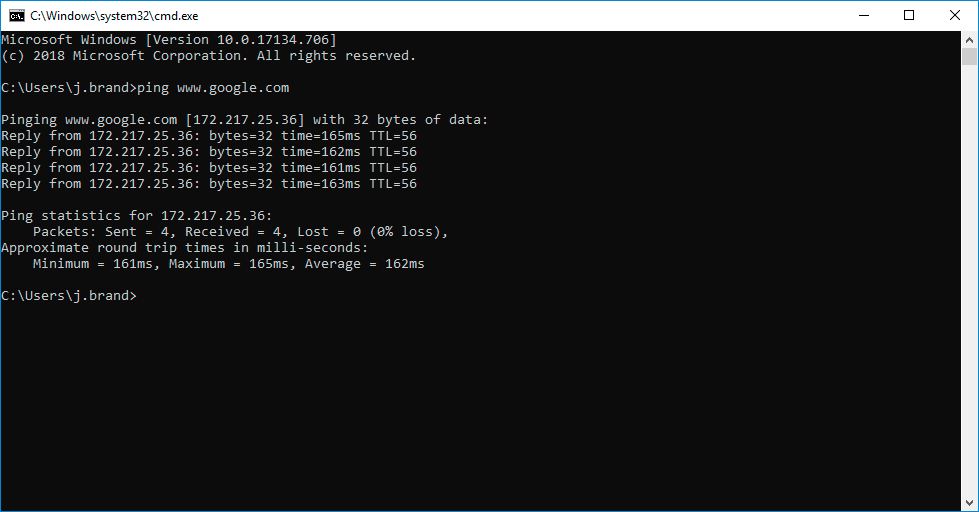 Under the ping statistics, if "Packets: Sent = X, Received = X" reflect the same number, your network is working correctly. If the number between "Packets: Sent" and "Received" is different, then the issue is likely DNS related. Restart your browser and try the ping command again. Take a screenshot of this screen and include it when you submit a request if you're still having problems.
Step 4: Ping command results in "Unknown host"
If you get the following message: "ping: cannot resolve www.google.com: Unknown host" after the ping command has run, the issue is DNS related. Try rebooting your computer and then run the ping command again to see if the problem has been resolved.
Still experiencing an issue?
If you're still experiencing an issue, fill out this form with the following items to help the Hotspot Shield Support Team troubleshoot it:
A screenshot of the command window that displays the ping command

The Hotspot Shield IP address located above "Virtual Address" in the app

A description of the problem, including any troubleshooting you've completed
For more information on how to take a screenshot, please check this article: How to take a screenshot.
Have a question?