Hotspot Shield on Mac has features and benefits that can be amazing when turned on. Please review this summary explaining each feature and where it can be located.
Once you are signed in to the application on your Mac device, please select the person icon on the bottom right and navigate to settings.
From the main screen, you will see the first setting option you can toggle. It is called VPN Protocol. This can also be found in the advanced settings in the Hotspot Shield Preferences.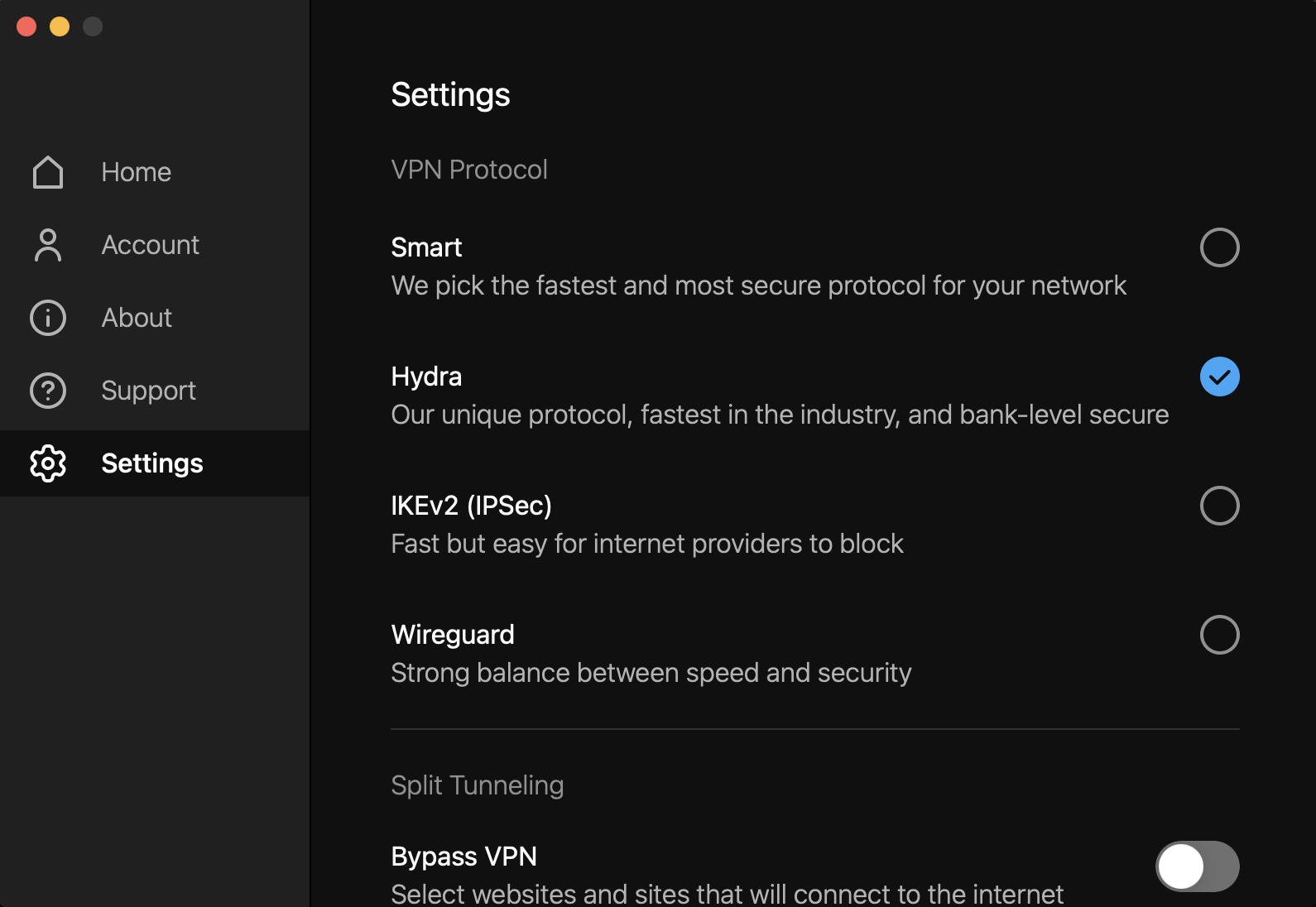 VPN Protocol
You can easily change your protocols from this section which can help solve issues with connections or access. We highly suggest changing your protocol whenever you have a technical issue with our application. You can choose from 3 different protocols.
Automatic (Recommended)
This is automatically turned on when you connect to a virtual location. When this protocol is selected, we will pick the fastest and most secure protocol to connect to for your network or area.
Hydra
This is our company-developed protocol. It only can be found with us. This unique protocol is the fastest in the VPN industry and faster than our other protocols. It is the most secure of our protocols, so whenever you have a technical problem, please try changing to Hydra.
IKEv2 (IPSec)
While being less secure than the other protocols, this is one of our very fast protocols under our belt. If not at par with Hydra, this is still a reliable protocol that may help with certain technical issues.
Wireguard
This protocol has been designed for ease of use. While it is not entirely recommended, it is a faster protocol with a lower chance of it being compromised compared to other protocols.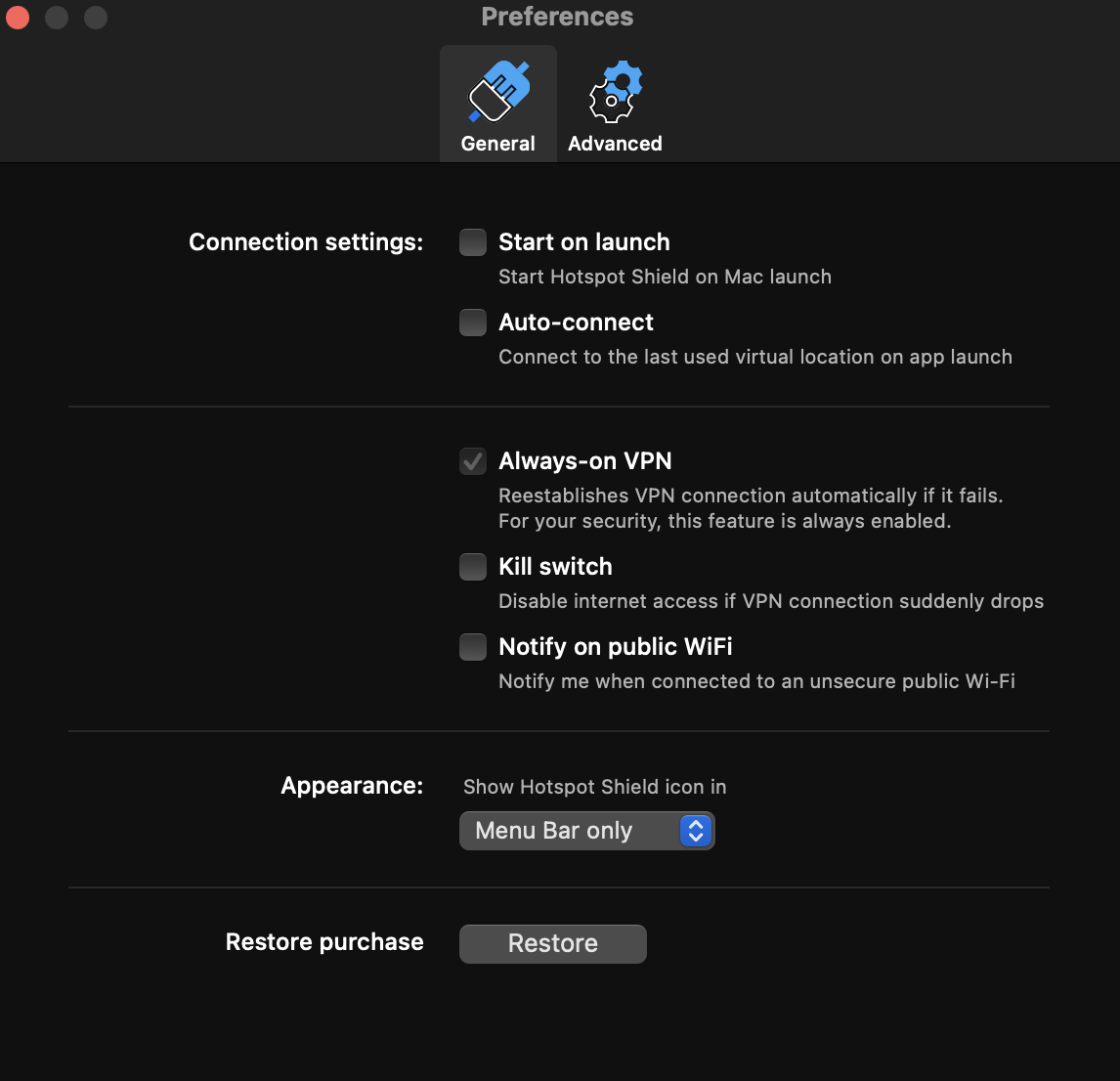 These settings shown above can be found in Hotspot Shield preferences. Let's go through each one.
Start on Launch: Enable this in case your device shuts off entirely and you need to reboot using the options displayed on the screen, or if you need to turn on the device, this option allows the VPN to connect immediately upon that.
Auto-connect: Enable this once you start up the app, the VPN will automatically connect to the most recent Virtual location.
Always-on VPN: This feature stays on because if the VPN losses connection when turned on the VPN will take the time to automatically go back to connecting.
Notify on public WiFi: Enable to notify you when the VPN is connected to a public Wi-Fi that is not as secure as private Wi-Fi.
Appearance: Choose how you would like UltraVPN to appear. Through the dock or even through both the menu and dock. You have the ability to customize.
Restore Purchase: You can restore your most recent purchase to activate your Premium status if the app believes you are not premium.
Split-Tunneling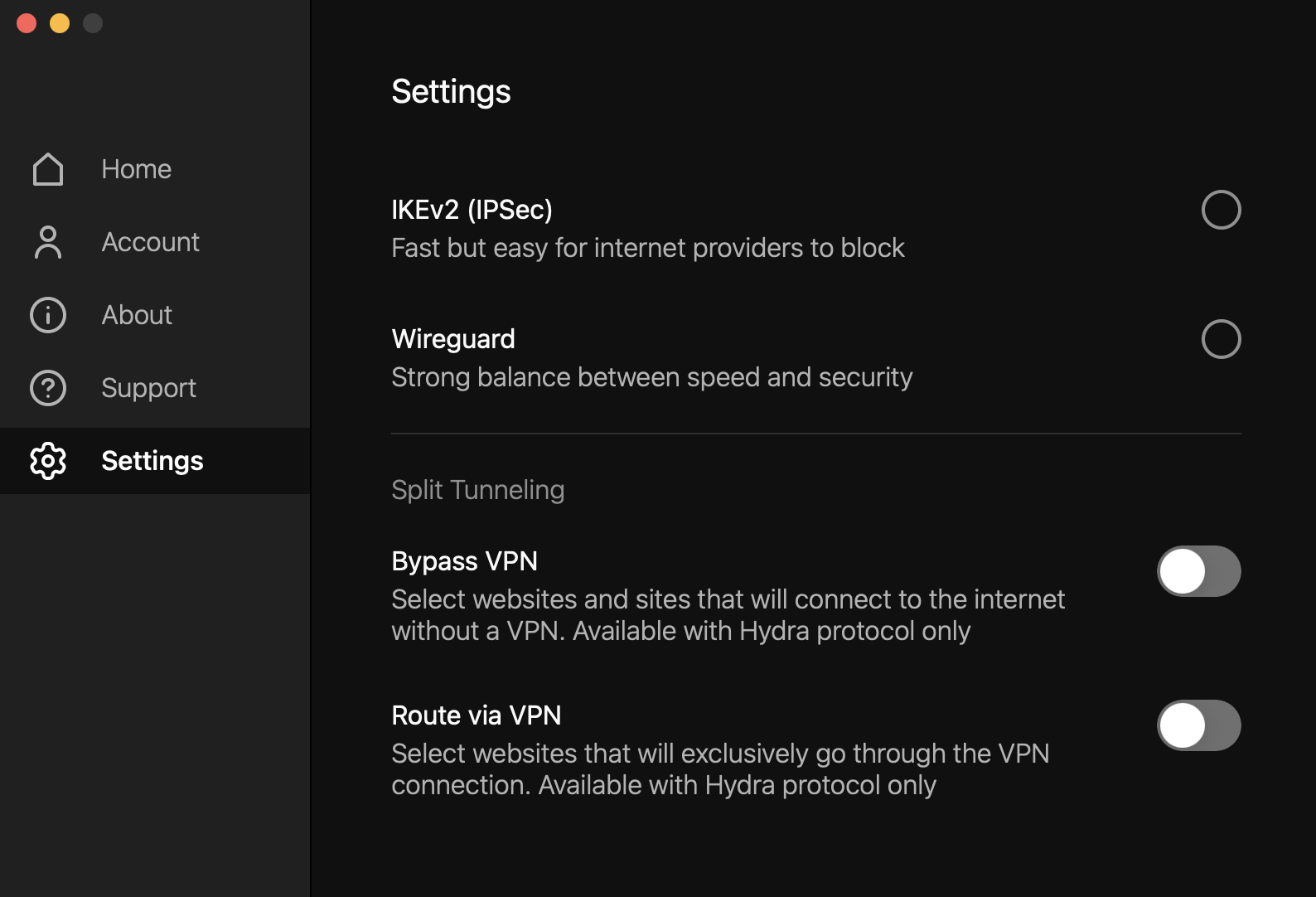 Hotspot Shield on Mac has a Bypass feature that can bypass specific websites. Once you manually add a site to this feature, the VPN will automatically connect to that app once it has been opened. To add an app or site, click the check mark next to bypass and click the add option.
You can also Route VPN access which will exclusively connect to the VPN always when the VPN is on. You can add apps to this feature by toggling it on via the check box, and clicking add next.
To disconnect the VPN once you have closed that site, you will need to go back into the UltraVPN application and disconnect it manually for both Bypass VPN and Route VPN.